THE sheepmeat industry is set for big benefits under the China-Australia free trade agreement (ChAFTA) with current meat tariffs of 15 to 23 per cent to be eliminated over eight years.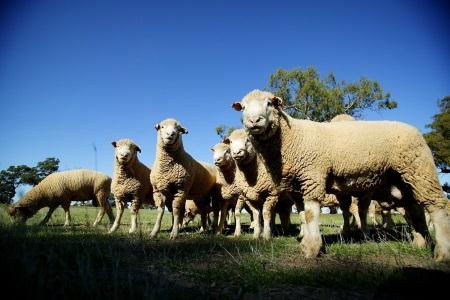 The tariffs levied on offal of 12-25pc will be eliminated over four to 10 years; the 5-14pc tariffs on skins will be eliminated over four to eight years; and the 10pc tariffs on live sheep eliminated over four years.
For the sheepmeat sector, the potential benefits are more than $150 million each year by 2024 - with the value over the next 16 years being in excess of $1.8 billion.
This is according to Meat and Livestock Australia (MLA) on behalf of the industry taskforce, including Australian Livestock Exporters' Council (ALEC), Sheepmeat Council of Australia (SCA), Cattle Council of Australia (CCA), Red Meat Advisory Council (RMAC), and Australian Lot Feeders' Association (ALFA).
China currently takes 25pc of Australia's sheepmeat exports and nearly 90pc of sheepskin exports.
SCA councillor and immediate past-president Ian McColl said the announcement came after years of hard work to build relationships with the Chinese and improve access to the market.
He said the agreement was required for the Australian sheep industry to be competitive with New Zealand.
"The government worked hard to deliver a beneficial outcome for our meat trade but also for exports of co-products and skins."
Mr McColl said the deal had the potential to lift the baseline price of lamb and mutton and significantly increase the farmgate returns of producers.
He said economic studies estimated a phase-out of tariffs by 2023 could increase meat prices by between 13-26 cents per kilogram dressed weight (above baseline levels).
In 2013, Australia exported 39,525 tonnes of lamb; 57,888 tonnes of mutton, and 3472 live sheep.
Levelling the playing field
Australian Lamb Company (ALC) marketing manager Asia Greg Haines, Sydney, said the ChAFTA was a win for the sector.
"We were battling the import tax in China all the time and we were held at a huge disadvantage to our New Zealand counterparts. I have been waiting for this for years, anything that takes away these brick walls in front of us can only help the industry," Mr Haines said.
He said Australia would never be able to produce enough lamb to supply China.
"There will always be more people than what there is lamb in China, they also have their own domestic supply, but we (Australia) will never be able to supply the enormity of what China consume," he said.
Mr Haines said China was a relatively new market for ALC and they sent about 5000 tonnes of lamb to China a year.
"We will be looking to multiply that number from here on in as the years progress," he said.
More markets for wool
The Australian wool industry has had its trade relations with China sewn-up for decades, with 88pc of the 2013-14 Australian wool clip purchased by China.
Australian Wool Innovation (AWI) welcomed the ChAFTA, as an addition to the existing tariff rate quota (1pc on 287 million kilograms of raw wool), the new deal would deliver a duty free country specific quota (CSQ) of 30Mkg of clean wool.
The CSQ would increase by 5pc compound per annum over eight years, to 45Mkg, and this process will be reviewed after three years to improve market access.
The value of Australian wool exports to China for 2013 was $1.94 billion. Wool is the sixth-largest export industry to China, and the largest rural export industry.
WoolProducers Australia (WPA) president Geoff Fisken said the the signing of the ChAFTA opened up many opportunities for Australian agriculture and was a sign of the ongoing positive trade relationship between Australian primary producers and the Chinese market.
"The Chinese government has recently strengthened environmental laws regarding discharge levels that must be adhered to by all manufacturers.
"AWI have been working with processors as they move towards meeting new wool effluent and other waste product standards. It is this sort of work that ensures a productive trade relationship between the two countries," Mr Fisken said.
"It is these beyond border issues that the wool industry is seeking more commitment from government. Market maintenance, including working with the Chinese to improve protocols and technical measures that facilitate trade has, and will continue to be, the focus of the wool industry."
Independent wool consultant, Andrew Dennis, Adelaide, doubted the free trade agreement (FTA) with China would improve the wool market or further grow China's wool consumption.
"Underlying demand for wool based on recovery of the Chinese economy will be far more important than the FTA given there is only a one per cent duty on wool at the moment to China," he said.
"Growers shouldn't expect an increase in the auction room from the FTA, there will be other factors driving that such as recovering seasonal demand, which we are starting to see come through now, the price is going up regardless of the fact the FTA has just been signed," he said.
Mr Dennis said last week the medium Merino wool types in the 19 to 22 were strong based on Chinese demand as were the crossbred wools- trends he expected would continue.